Law Enforcement Conference "Prosecuting Demand – Deterring Sex Buying and Exploitation"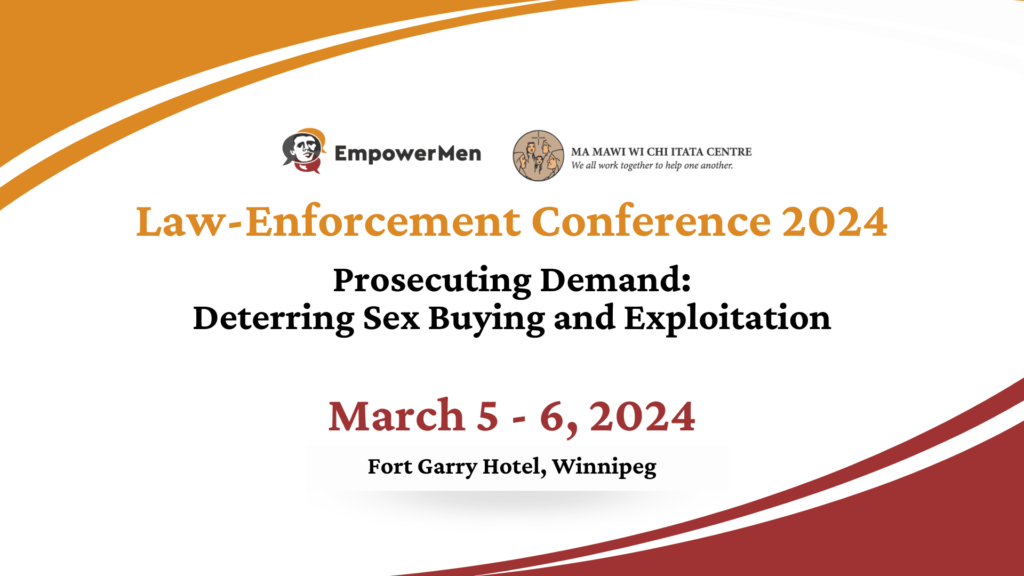 Law Enforcement Conference "Prosecuting Demand – Deterring Sex Buying and Exploitation" Sexual exploitation and human trafficking continue to increase in Canada and disproportionately impacts women and children, including Indigenous and gender diverse individuals.
This national conference will bring together leading law enforcement experts to focus on the demand for commercial sex as the main driver for exploitation and trafficking.
Join us to connect with other police officers, crown prosecutors and policy makers from across Canada to discuss legislative and policy action, effective criminal justice responses, investment, and the political will needed to address the harm. We will hear compelling testimonies from leaders, survivors, and their family members about taking action to address this grave injustice in our country.
Points of Discussion:
The role of sex buyers in sex trafficking as well as current major trends.
Canada's legislative framework to deter demand as an anti-trafficking strategy.
The rise of "sex work" ideology and the myths and dangers of decriminalizing sex buying.
MMIWG2S Calls for Justice in relation to the sex industry.
Successful police enforcement and prosecution strategies from across Canada.
Sting operations that save costs and are effective.
Exploring collaborative approaches between police, crown prosecutors and community agencies.
Alternative Measures Programs like "John schools" that educate sex buyers and hold them accountable.
Background information:
Most victims of sex trafficking and exploitation are women and girls while most sex buyers who create the demand for commercial sex are men. The conference will highlight intervention strategies for law enforcement and community agencies that:
Reduce exploitation and increase safety for women and girls.
Address how communities, family members and partners are affected by sex buying.
Focus on risk factors that lead to sex buying and provide participants with resources.
Shift the focus and the responsibility from victims onto the perpetrators instead.
Organizer:
Ma Mawi Wi Chi Itata Centre – EmpowerMen Project in partnership with Winnipeg Police Service, Longueuil Police Service (QC), Alberta Law Enforcement Response Teams (ALERT) CEASE Edmonton, Salvation Army Correctional and Justice Service Winnipeg and London, John Howard Society of Durham